Wicked celebrated 15 years on Broadway yesterday. It opened on October 30, 2003 at the Gershwin Theater and became an instant hit. Based on the 1995 book, Wicked: The Life and Times of the Wicked Witch of the West by Gregory Maguire, the show focuses on the untold stories of Oz before Dorothy dropped in. The two main characters are Elphaba and Glinda. They're college roommates whose rivalry ultimately turns into an unlikely friendship.
In honor of the show's 15th anniversary, NBC aired a very special concert on October 29th. It was co-hosted by Broadway's original Elphaba and Glinda, Idina Menzel and Kristin Chenoweth. It was only an hour long. They paid tribute to the show's past, celebrated its future, and thanked the fans for being a part of the journey along the way. Can we talk about their Oz Dust Ballroom set, the costuming, and Kristin's microphone?
It wouldn't be an anniversary concert without a line up. Here are the songs in order of appearance:
One Short Day – Broadway Company
As Long As You're Mine – Adam Lambert and Ledisi
Popular – Kristen Chenoweth
What Is This Feeling? – Pentatonix
Defying Gravity – Idina Menzel
The Wizard and I – Ariana Grande
For Good – Cast Reunion
I loved everything about it. There wasn't a moment that I didn't like. One of my favorite parts was when they brought out Stephen Schwartz, and Kristin mentioned Carole Shelley's name before the show ended. Carole Shelley was Broadway's first Madame Morrible. She recently passed away in September. If you're a Wicked fan, you'll appreciate A Very Wicked Halloween. We'll leave you with this reunion:
From all of us to you, thank you for 15 incredible years of magic!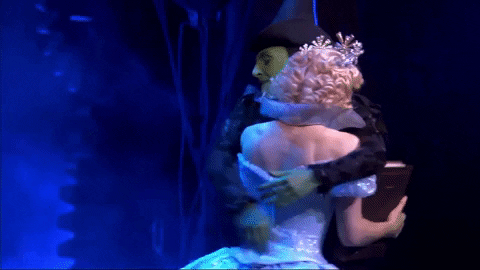 Here's to many more! To learn more about Wicked The Musical, click here.