CW: There are a lot of spiders in this episode. That being said, if this arachnophobe can make it through it, you can.
Welcome back to Sheffield! The TARDIS lands near Yaz's apartment building so she invites everybody over for tea. Apparently, they've only been gone for thirty minutes, so nobody really noticed that they were missing. In true Doctor Who fashion, however, it's not just an easy trip back home is it? It looks like something weird happened while they were gone, and it's up to them to put everything right again.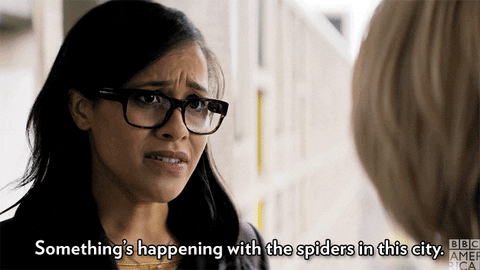 NEW CHARACTERS
Jack Robertson (Chris Noth): Robertson is the owner of the luxury hotel that serves as the epicenter for the episode. He's an American businessman that wants to run for president in 2020. I'll just leave it there for now.
Naja Khan (Shobna Gulati): Naja is Yaz's mom. She was the General Manager of Robertson's hotel until he fired her in the beginning of the episode. She ends up getting involved because she asked Yaz to pick her up and the Doctor got there before they could leave. The Doctor relied on her to help them navigate through the hotel, and tell them about it when Robertson wouldn't. There seems to be some rift between mother and daughter but after the whole experience, Naja comes around and doesn't mind letting her go. She wants to know how they met eventually.
Dr. Jade McIntrye (Tanya Fear): Jade is a fellow at the research center where the spiders came from. When their admin assistant Anna didn't come in for a couple of days, she got worried and made a house visit. Nobody answered the door so she hung around for a bit. That's when she meets the Doctor and Ryan. She helps the group understand the science behind their experiment and tells them everything she knows. Anna wasn't supposed to have access to their experiments, unless she took things they weren't aware of. Jade is a zoologist.
Hakim Khan (Ravin J. Ganatra): Hakim is Yaz's dad. He gets really excited that she's finally bringing friends over and makes them dinner. Apparently, he doesn't cook very well but tries his best. He also likes conspiracy theories.
Sonya Khan (Bhavnisha Parmar): Sonya is Yaz's sister and as we've learned, has been trying to get Yaz to move out so she can have her room. They have two completely different personalities. Sonya is on her phone for most of the episode unless it involves her sister's personal life. Then she wants to know more.
Frankie Ellish (Jaleh Apl): Frankie works for Jack and is niece's wife. Frankie was given one hour to fix the problem and doesn't necessarily have a happy ending, unfortunately.
Kevin (William Meredith): Kevin is Jack's bodyguard and ends up being one of the spiders' victims after Robertson pushes him into the bathroom to check on things.
FINAL THOUGHTS
It's hard coming back home from a trip. The Doctor was finally able to bring them back home, but is it enough? That's the question they have to answer when they come back after their short time with the TARDIS. I loved that Yaz invited everybody over for tea. She doesn't necessarily tell her family everything but she doesn't have to. Despite the fact that they keep asking her questions, because they're really excited she actually has friends and brought them over. THANK YOU FOR KEEPING RYAN AND YAZ'S PLATONIC RELATIONSHIP SACRED!
While the spiders may have been the main draw for this episode, the actual antagonist is Robertson and his toxic and fragile masculinity. A lot of the antagonists have been from another alien planet. Not this time. From the moment we meet him, Robertson looks down on everyone he interacts with. It gets frustrating fast. Especially the way he talks to women of color. He has a very specific personality. He wants to be the boss, but he doesn't want to be held accountable for anything. It's great when the group calls him out. It's one thing to have a fictional villain and another to have one that can actually be a real person. We get a brilliant performance from Chris Noth here.
For those of you that have been rooting for Ryan and Graham to get along since day 1 as well, we get a very special moment in this episode. I want to point out one particular scene because it almost seems out-of-character for a bit. Ryan gets a letter from his dad saying that he's sorry for not being there. However, he doesn't read it until later. When he finally reads it, he tells Graham that he doesn't like how his dad said Graham wasn't proper family. Look for Graham's reaction when Ryan admits that he actually considers him family. It tugs on your heartstrings. This is coming from the same kid that said I wasn't going to look after him the day after Grace died in episode 2. Both are clearly dealing with grief in different ways, but it's nice seeing them finally come together.
This may sound weird, but one of my favorite parts of this episode was actually watching the Doctor not being able to stop Robertson from shooting the mother spider. She has won all of her major battles thus far, so it's nice to see the other side when things don't go exactly as planned. Watching her kneel down to pay her final respects was a great tribute to her character. My only question for Chris Chibnall is: what's going to happen to the other spiders? Did they die after their mom did? It seemed like it, because everything went back to normal after that and the group returned to the TARDIS together to let the Doctor know that they're in it for the long haul.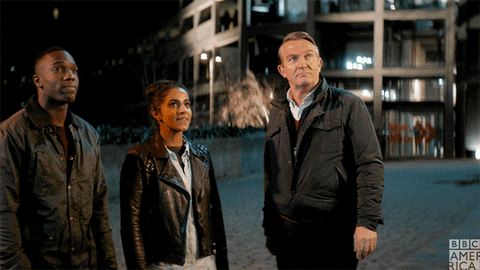 How do you feel about this series so far? What have been some of your favorite moments? Leave your thoughts in comments below! We'd love to read them. We'll be at the halfway point next weekend. Welcome to Team TARDIS! Doctor Who S11E5 (The Tsuranga Conundrum) will air on Sunday, November 4. Here's the trailer: