6) 
So Yi Jung and Chu Ga Eul from
Boys Over Flowers
Ship status: Canonical tertiary pairing
To be honest, I was over Boys Over Flowers' main pairing from the moment Gu Jun Pyo started bullying Geum Jan Di. I like enemies to lovers, but not when the power differential is so vast. So when Jan Di lost nearly all of her spine in her relationship with her poor little rich boy by the halfway mark of the drama's unnecessarily long run, I had to find other ways to entertain myself. And thankfully, the leads' best friends were there for me in my time of need.
Of course, Yi Jung had his own poor little rich boy syndrome, but he was always respectful of Ga Eul as a person even when he was oblivious to the heart she was wearing on her sleeve. And her quiet strength as she coaxed him out of his shell grew louder than the constant bickering from the main couple. Even his mooning over his first love, which tore my heart to shreds on Ga Eul's behalf, led to some of the most emotional moments on the show. A lot of this was due to Kim Bum and Kim So Eun's lovely and understated performances, which grounded a thinly-written loveline that wound up carrying the latter half of the drama for me.
As sweet as their semi-reunion in the final moments of Boys Over Flowers was, they could have taken the relationship much further and devoted much more time to it. Especially given how much drama there was in the primary ship and how much it dragged, a light touch with Ga Eul opening Yi Jung up to love again would have done wonders for the slower parts of the story. Did I mention it was 25 episodes long? No one needs 25 episodes. But hey, at least they'll always have pottery class.
7) 
Choi Choon Hee from
Trot Lovers
and Kim Byung Gun from
What's Up?

Ship status: Fantasy crackship
Two characters (and their actors) dripping with talent, trapped in mediocre-to-bad dramas, of which their respective musical numbers are the highlight. While shipping characters from two different dramas places this firmly in "crackship" territory, the ship actually makes sense. They're both really sweet and down to earth, but together they'd be a power couple taking the stage by storm. The fact that they both had to overcome stage fright but retained their unassuming natures after, just makes you want to see them succeed (together) all the more. Sure, one sings trot and the other showtunes, but maybe their story could be about them meeting, wanting to perform together, and creating a trot musical to star in together.
This is one ship I'd actually want to see stay as a crackship, however, or at least for it only to happen with a recast. It's for one simple reason: I'm not a fan of the 13-year age gap between Jung Eun Ji and Jo Jung Suk. I do think the two actors would be fabulous musical fun together, but maybe not as romantic partners. So for now, give me all the epic musical romcom fics with the two characters closer in age (I'm going to have to write it myself, aren't I?), and then someone should get to casting Jung Eun Ji and Jo Jung Suk as bickering singing siblings in a slapstick musical comedy.
8) 
Secretary Gong and Oh Dol Byung from
Strong Woman Do Bong Soon
Ship status: Noncanonical rare pair
I've already talked about my complicated Dol Byung feelings here, but the fun and flirty friendship that friendship that popped up between him and the long-suffering Secretary Gong was one of the brightest spots in the colorful Strong Woman Do Bong Soon's later episodes. It was a particularly welcome development because both men were in desperate need of some kind of storyline to keep them from being one-note wonders.
But as much as I enjoyed their interactions, the no-homo nature of their scenes, at least on Secretary Gong's side, never sat well with me. Strong Woman Do Bong Soon already faltered when it came to representation, with issues beyond Korean drama's general lack of it cropping up: Ahn Min Hyuk's perceived homosexuality was played off as a curable illness of some kind, and Dol Byung's actual homosexuality came across in the most stereotypical way possible. So instead of having Secretary Gong assure everyone who didn't ask that he and his new gay best friend were just friends for most of the run, it would have been nice to counter one stereotype with one more nuanced depiction of a gay character throughout.
And it's not like the latter has escaped kdramas altogether, as Joon Hee in Reply 1997 was a particularly poignant example. I just would have liked to see a story that married the appearance of an LGBT character with a legitimate happy ending for once. Due to the light-hearted tone of the office shenanigans in this story, it wouldn't even have taken a big push for Secretary Gong and Dol Byung to be an adorable and hilarious background couple rather than having it be a running joke until the end. Which, at this point, I'm not entirely sure if the claim-and-denial that they were dating was a continuation of the joke or a reversal of it. I'm going with the latter, but I wanted to see more of them regardless.
9) Lee Hwi Kyung and Yoo Se Mi from
My Love From The Star
Ship status: Noncanonical rare pair

Just as Lee Sang Yeob must find his way into all my lists, so too must Yoo In Na. And ironically they were in parallel positions during their respective dramas, as the unfortunate friend whose unrequited love remains unfulfilled throughout the story. Now I'm not ascribing to the rule that he who pines the most deserves the most, regardless of gender, but watching Se Mi long for Hwi Kyung's affection was as painful as watching Hwi Kyung beg for Song Yi's was annoying. Wouldn't everyone have been happier if he just realized his other best friend actually had romantic feelings for him and decided to try being wanted instead of demanding that someone else want him back? And then maybe Se Mi would have been less petty and jealous in the middle there. But the heart wants what it wants, alas, and so this little ship could not be.
Of course, there's no denying that a lot of a kdrama's – well – drama comes from the push and pull of the interfering supporting cast. And My Love From The Star knew just how to mine both comedy and tragedy from the cross-purposes of second leads, no matter how well-meaning or ill-intentioned they were. While allowing Hwi Kyung and Se Mi to have their own happy romance outside of the love square would have reconfigured the story vastly, and I already enjoy it as is, I couldn't help but hold out hope for a last-minute round of pair the spares.
And, yes, growth and maturity can easily be reached without the fairytale ending – which is something I think My Love From The Star did well for its second leads. But it can also be reached with a fairytale ending, just saying!
10) 
Seo Yoo Kyung and Oh Sae Young,
Pasta

Ship status: Noncanonical rare pair
I've shared my thoughts on this pairing on multiple occasions. But I said I would shout about it till the end of time, so here we are. This time I'll just leave you with more gifs.
I mean, look at this smitten face upon their first meeting:
And all this body language upon their last (*sniff*):

Here they are talking about the male lead, whom they're both interested in. I think I know who they're really interested in…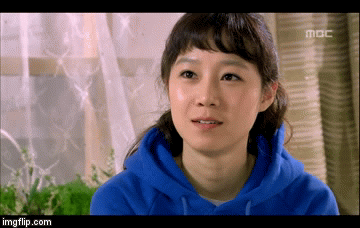 For serious though, I've never seen a kdrama where the two female leads are romantic rivals, yet smile and bite their lips and wink at each other in their every scene together.
What do you think of our kdrama rarepairs and crackships? Do you have any of your own? Share in the comments below.